It is true that many users ask us why does Apple call Thunderbolt 3 to the USB-C of the new MacBook Pro? If it's really all the same, and the answer is pretty straightforward to explain. In this case what we have to do is clarify two important points in this question, the first thing is that the USB Type C is a specification of the connector that we can say is universal or similar to the old USB 3.0 and earlier ports. In this case the USB-C Port adds the main feature that is reversible and does not require a specific position for the connection of the cable. Apple adds to this type of Thunderbolt 3 connection in this new Macbook Pro, which means that its operating system is USB 3.1 and Thunderbolt.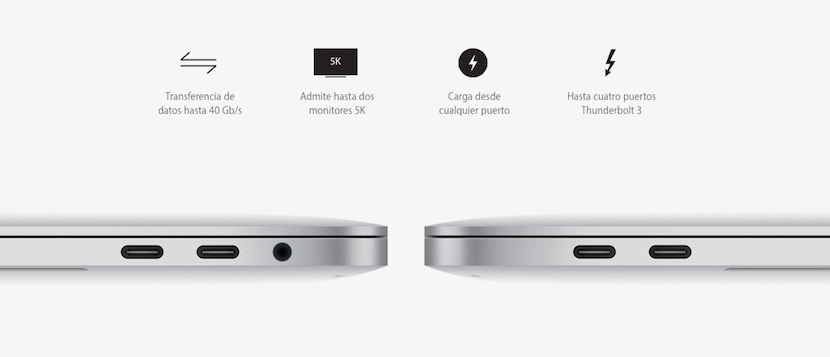 This is what they advertise on the Apple website about these ports: four Thunderbolt 3 ports (USB-C) compatible with:
Thunderbolt (up to 40 Gb/s)
USB 3.1 Gen 2 (up to 10 Gb/s)
The new MacBook Pro announces 2 and 4 Thunderbolt 3 connectors respectively on their 13 or 15 inch drives, and add in parentheses that the connector type is USB-C. So the difference or why it separates the two types of connection is simply the universality of the connection port.
Logically all this is not something new for the USB-C because Intel has the same connection system (not not something exclusive of Apple) but with the advent of this type of connector to the Mac hopefully will start to implement in Mass in the rest of equipment , whether Apple or not. Now we can use the various external devices that use USB 3.1 or Thunderbolt as long as the type of connector is the USB-C. And yes, we also do not understand why we put fewer ports for users who do not want the Touch Bar in the new MacBook Pro, but that for another day ...